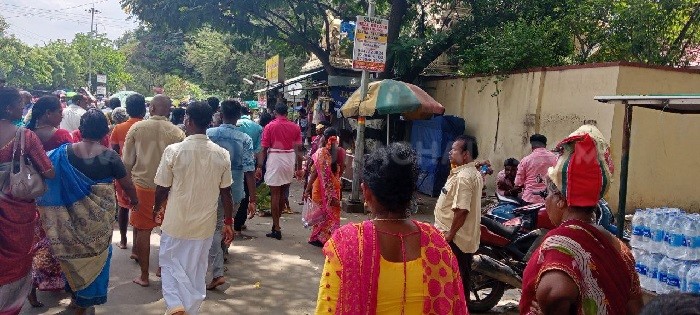 May 5, 2023, 14:22 189 views
Tiruvannamalai Annamalaiyar Temple, one of the most popular temples in Tamil Nadu, is currently witnessing a grand celebration of the Chitrai Vasant Utsava. The festival, which began on May 1st, is celebrated every year during the Tamil month of Chitrai.
On May 5th, the occasion of Chitra Poornami, thousands of devotees gathered at the temple to participate in the Girivalam, which is a ritualistic circumambulation of the holy hill of Annamalai. The Girivalam is considered to be a sacred practice that brings blessings and good fortune to the devotees.
Devotees walked around the Annamalai hill, which is about 14 kilometers long, chanting hymns and offering prayers to Lord Annamalaiyar. Despite the hot weather, the devotees participated in the Girivalam with great enthusiasm and devotion. The temple authorities had made elaborate arrangements for the devotees, including setting up drinking water and food stalls along the way.
The Chitrai Vasant Utsava and the Girivalam at the Tiruvannamalai Annamalaiyar Temple have been a huge success, with thousands of devotees participating in the festival with great enthusiasm and devotion.
https://omarunachala.com/omarunachala/uploads/2023/05/pournami5523-2.jpg
315
700
omarunachala
https://omarunachala.com/omarunachala/uploads/2017/09/logo3.png
omarunachala
2023-05-05 14:22:45
2023-05-06 11:41:10
Tiruvannamalai Annamalaiyar Temple Witnesses Massive Turnout of Devotees for Chitra Pournami Girivalam!