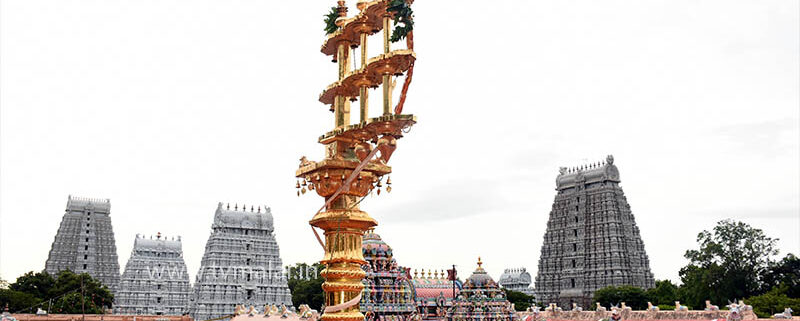 November 16, 2023, 10:27 160 views
Anticipation is on the rise as the auspicious 'Karthigai Deepam' festival is set to kick off at the Sri Arunachaleswarar temple in Tiruvannamalai. The 10-day grand celebration will commence with the ceremonial hoisting of the holy flag on Friday (17.11.2023), marking the beginning of this sacred event that draws lakhs of devotees to the pilgrim center.
The significant highlight of the festival will be the Maha Deepam, illuminating the spiritual ambiance throughout the 10-day celebration. Devotees from far and wide are expected to gather to witness and participate in the divine festivities.
The sacred flag-hoisting ceremony will take place on the temple precincts between 4:45 a.m. and 6:12 a.m., symbolizing the commencement of the much-awaited 'Karthigai Deepam' festival.
https://omarunachala.com/omarunachala/uploads/2023/11/tvmalai-in-aadiperuku-kodiyetram-4.jpg
534
800
omarunachala
https://omarunachala.com/omarunachala/uploads/2017/09/logo3.png
omarunachala
2023-11-16 10:27:27
2023-11-17 09:32:23
'Karthigai Deepam' begins tomorrow in Tiruvannamalai