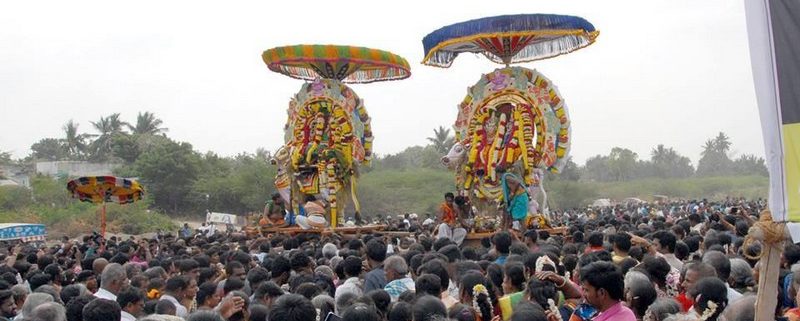 The special event of Theerthavari was performed at the Kalasapakkam Seyyaru on the deities of Lord Annamaliyar and Thirumamudeeswarar yesterday (Monday, 11th February)
The above event of special Theerthavari was performed in a grand style as a part of the ongoing 'Ratjasapthami' festival celebrations.nFor this occasion, the deity of Lord Chandrasekharar was specially adorned and taken to the theerthavari function.
On the way, the event of the deity of Lord Chandrasekharar performing the inspection of the lands owned by the temple of Lord Annamalaiyar in the Union of Dhanakotipuram, Kottipuram.
Further, when reaching the Kalasapakkam Thenpallippattu, thousands of devotees offered enthusiastic welcome. After this, the Lord Chandrasekhara reached Kalasapakkam Seyyaru.
In a similar event, the deities of the Kalasapakkam temple, Lord Thirumamudeeswara, and His Consort Goddess Thiripurasundari, specially adorned, were taken to Seyyaru.
Thus, there was a meeting of the deities of Lord Chandrasekharar and Lord Thirumamudeeswarar in the Seyyaru. Participating with extra enthusiasm, the thousands of devotees who had gathered for this special occasion, kept chanting, 'rohara' and prayed the Lords!
For the occasion of the special Theerthavari, sacred water was brought from Seyyaru and then the main event of Theerthavari was performed on the deities. and then Deeparadhanai was performed.
As there is no water presently in Seyyaru, a large pit was dug with JCT equipment and water was filled for performing the special theerthavari event.
It has been a tradition for years for the temple elephant of the Annamaliayar temple also to participate in the Theerthavari every year. However, as the elephant had passed away, the devotees, and especially the children, were somewhat disappointed about the absence of the elephant.
'Annadhanam' was performed throughout the entire route when the deity of Lord Chandrasekhara was taken from the temple to Seyyaru.
After the event of theerhavari, the deity of Lord Chandrasekharar will remain at Seyyaru through the night session and then the deity will be taken the next morning (today, Tuesday, 12th February) back to the Thiruvannamalai temple.
https://omarunachala.com/omarunachala/uploads/2019/02/om1221911.jpg
535
800
livechennai
https://omarunachala.com/omarunachala/uploads/2017/09/logo3.png
livechennai
2019-02-12 12:14:09
2019-02-12 12:14:09
Theerthavari performed for the deities of Annamalaiyar and Thirumamudeeswarar