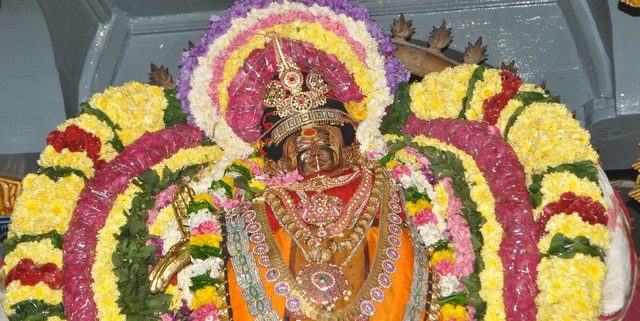 Today (1st January) is a Full Moon Day in the sacred Tamil month of Margazhi. In the month of January, we will have 2 full moon days. The 2nd Full Moon Day occurs on 30th January. Here is a glorious snap of the Full Moon.
Events
On Saturday, 30th December, Sani Pradosham was performed in the Lord Arunachaleswarar temple in Thiruvannamalai.
A special 'sandal abhishekham' and 'milk abhishekham' were performed on the Lord Nandhi (Larger Nandhi) in the 5th corridor of the temple. Tomorrow is the occasion of Sri Arudhra Darshan.
Today (Monday, 1st January 2018), the deity of Lord Nataraja in the 2nd corridor, along with His Consort Sivakamasundari will be shifted to the 1000-feet mandapam in the 5th corridor of the temple.
Tomorrow (Tuesday, 2nd January) Special Abhishkeham will be performed early morning to the deity of Lord Nataraja and then Mahadeeparadhana will be performed. The black soot from the sacred deepam will be applied on the deity.
Lord Nataraja will then be taken on a procession via the Thrumanjana Gopuram to the temple corridor street to offer Darshan.
http://omarunachala.com/omarunachala/uploads/2018/01/om1118_5.jpg
425
640
livechennai
http://omarunachala.com/omarunachala/uploads/2017/09/logo3.png
livechennai
2018-01-01 16:04:25
2018-01-01 16:04:25
Special events in Thiruvannamalai Arunachaleswarar temple